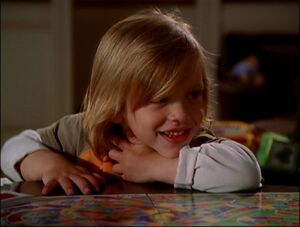 Personal Info
Full Name:
Wyatt Matthew Halliwell
Title:
Twice-Blessed
Vital Statistics
Born:
February 2, 2003
Status:
Alive
Species:
Human
Race:
Whitelighter-Witch
Powers:
Various
Hair Color:
Blond
Eye Color:
Blue
Additional Information
Series:
Ripple Effect
Number of Stories:
4
Wyatt Halliwell is the older son of Piper Halliwell and Leo Wyatt.
Born on February 2, 2003, Wyatt is now almost ten. Raised by his grandfather for the last seven years, Wyatt is no stranger to loss. What he isn't used to is having all of his family back, but he's quickly learning to love it.
Wyatt is Piper and Leo's older son. He has a younger brother named Chris.
Wyatt is Twice Blessed, giving him a large selection of powers to choose from.
In the Series
Edit
Wyatt and his brother, Chris, have had to grow up fast over the years since they lost their parents. As far as they are concerned, only they stand between the innocents on the outside and whatever is inside their house killing all who get near. When they meet Sam Winchester they found in him someone who wasn't going to give up until he found out what was in that house and found the only way they could to get him away from it . . . bringing him home. Except they soon realized there was a chance he might really be able to help them.
Wyatt and his little brother, Chris go shopping with their aunt Prue for Christmas presents. While there something happens and both boys disappear.
Ripple Effect Avatars
Edit
From Charmed
Edit
Jason and Kristopher Simmons
Edit