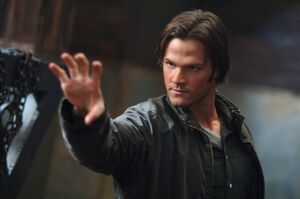 Personal Info
Full Name:
Samuel Winchester
Nickname:
Sam
Vital Statistics
Born:
May 2, 1983
Species:
Human
Powers:
Various
Family
Parents:
John Winchester
Mary (Campbell) Winchester
Sibling(s):
Dean Winchester
Additional Information
Job:
Hunter
Series:
Ripple Effect
Number of Stories:
5?

Sam is the younger brother of Dean Winchester
Sam is the younger son of John and Mary Winchester. He works with his older brother, Dean, to try and stop all of the supernatural evils out there.
Sam has been known to have visions of future events not unlike Phoebe's premontions. He has the ability to pull a demon out of a person they are possessing, but this ability drains him. At first in order to access it, he drank a lot of demon blood, but he became addicted and ended up starting the apocolypse. Without the demon blood it is difficult for him to access this ability, but not impossible. It drains him even more though. He has also shown an ability toward moving objects with his mind.
In the Series
Edit
Ripple Effect Avatars
Edit
From Supernatural
Edit
Jared Padalecki
Edit