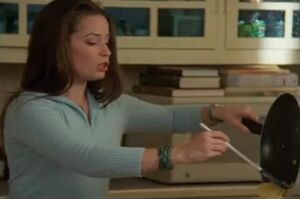 Personal Info
Full Name:
Piper Melinda Halliwell
Title:
Charmed One
Piper Halliwell is the middle daughter of Patty Halliwell and Victor Bennett.
Piper awoke after seven years to find everything changed. Her dead sister and best friend was alive, but no longer a witch. Her babies were half grown. Nothing was as she remembered. Even her husband was different, harder after seven years of trying to keep from being killed by a demon possesed firestarter.
She is married to Leo Wyatt. They have two sons, Wyatt and Chris who are ten and nearly nine and have grown up far too fast after the seven year loss of their parents. She is trying to get used to the fact that her babies aren't babies any more.
When Piper was a little girl she could freeze objects in time, but her powers were bound to protect her and her sisters. As an adult she and her sisters got back their powers and Piper learned to use her powers. Later she came into a new power that allowed her to blow things up by speeding up their molecules. Through this she was given to believe that her abilities were actually a matter of manipulating molecules.
In the Series
Edit
Thanks to the persistance of her sons in searching for a way to get them out and the powers of Sam Winchester Piper, along with her husband and sisters, is able to escape the manor where she was trapped for seven years.
After everything that happened over the last several years, Piper doesn't plan to miss another minute of her half grown boys' lives. She missed so much already.
Ripple Effect Avatars
Edit
From Charmed
Edit
Holly Marie Combs
Edit